By Bryan Trugman, CFPⓇ
Have you ever considered hiring a financial planner and then thought, "It's just too expensive" or "Financial planning just isn't right for my needs"? If so, you're not alone. 
We've found that many of our younger clients have no interest in the full-blown retirement planning, Social Security analysis, and estate planning components of a typical financial plan—and they shouldn't have to pay for services they don't need. So, they stayed away from the industry entirely, even when the cash-flow planning and budgeting components could have added significant value to their financial lives.
We recognized a need to adapt and provide customized services to younger clients who were often left out of typical financial planning models. That's why we developed the Money Mastery Service. And because we know every client deserves to understand what they're getting before they pay a penny, we've put together a sample financial plan so clients will know what to expect. 
Here's everything you need to know about Attitude's Money Mastery Service.
Who Can Benefit From Our Money Mastery Service? 
Attitude's Money Mastery service is a one-time financial plan for anyone who wants to assess their basic financial situation. We will look at your cash flow, budget, and long-term financial goals and come up with a cohesive plan to help you stay on track financially. This service focuses on the fundamental aspects of planning (cash flow and budget) without all the extras that many people don't need. Money Mastery is great for:
Newly engaged or married couples

Young professionals 

People who want to get their cash flow under control 

People who are struggling to save 

Individuals or couples with less complex financial needs
As part of the Money Mastery service, you'll get a dedicated Attitude CFPⓇ Professional who will work with you for 90 days to develop your customized financial plan. You'll also gain access to a personalized client portal that you can use to track your progress and stay accountable to your goals.
Let's Take a Closer Look
Here is a sample financial plan that reflects our Money Mastery process. It looks at a fictional client's lifestyle income plan and how we developed it, including identifying their goals, creating a balance sheet, reviewing their cash flow, and more. 
Keep in mind that this is only a hypothetical plan presented to illustrate what a client's plan may resemble should they work with us. The characters and circumstances are completely fictional and are for illustrative purposes only. Be sure to seek the advice of a qualified professional for your particular situation and not rely upon any of the information herein to make personal financial decisions.
The Big Picture
We provide an overview of your current situation by breaking down your cash flow. With just one glance, you can see a big picture of your financial life, including your income and expenses broken down into specific categories. These can then be projected over time to show how your financial picture can change based on simple adjustments to cash flow and budgeting.
You can easily identify years in which you may be spending more than you're bringing in. Together with your financial planner, you can make real-time changes to your spending habits to keep your plan on track.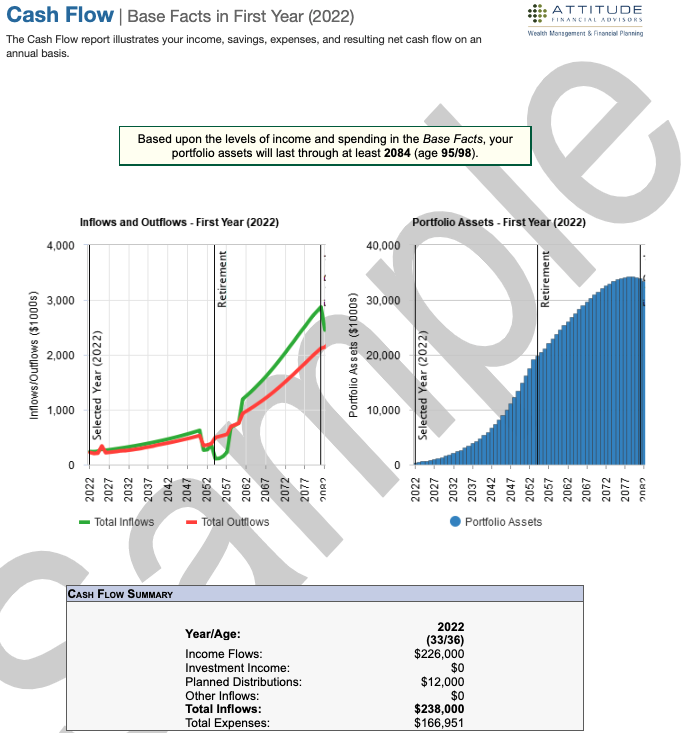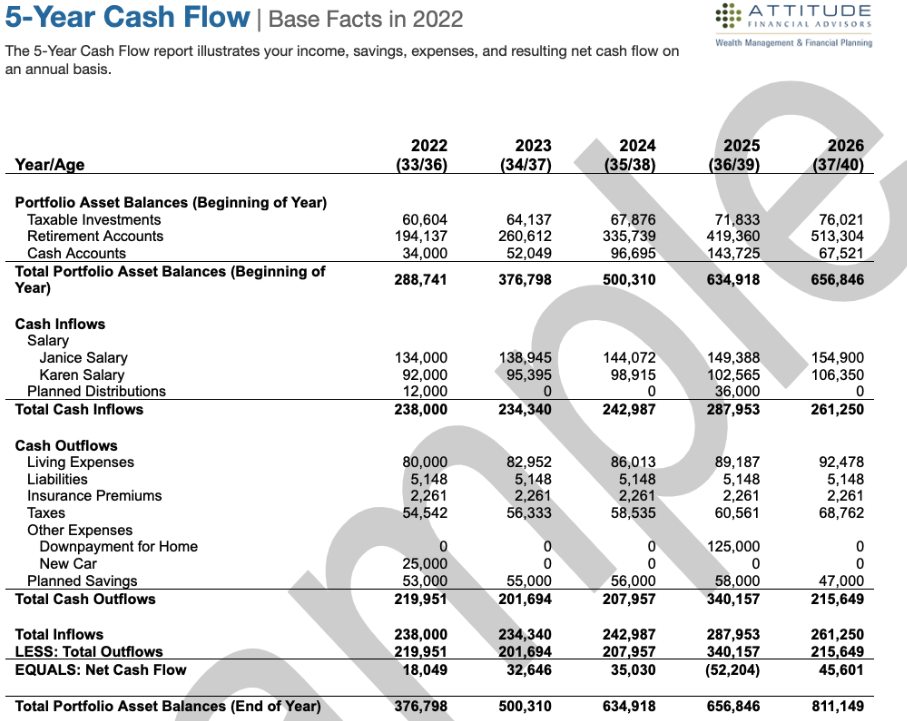 The Money Mastery plan will then take your cash-flow analysis one step further by breaking down the specific areas of spending. This level of detail provides a complete understanding of your cash flow, allowing you and your planner to identify areas of opportunity and ways to improve your savings plan.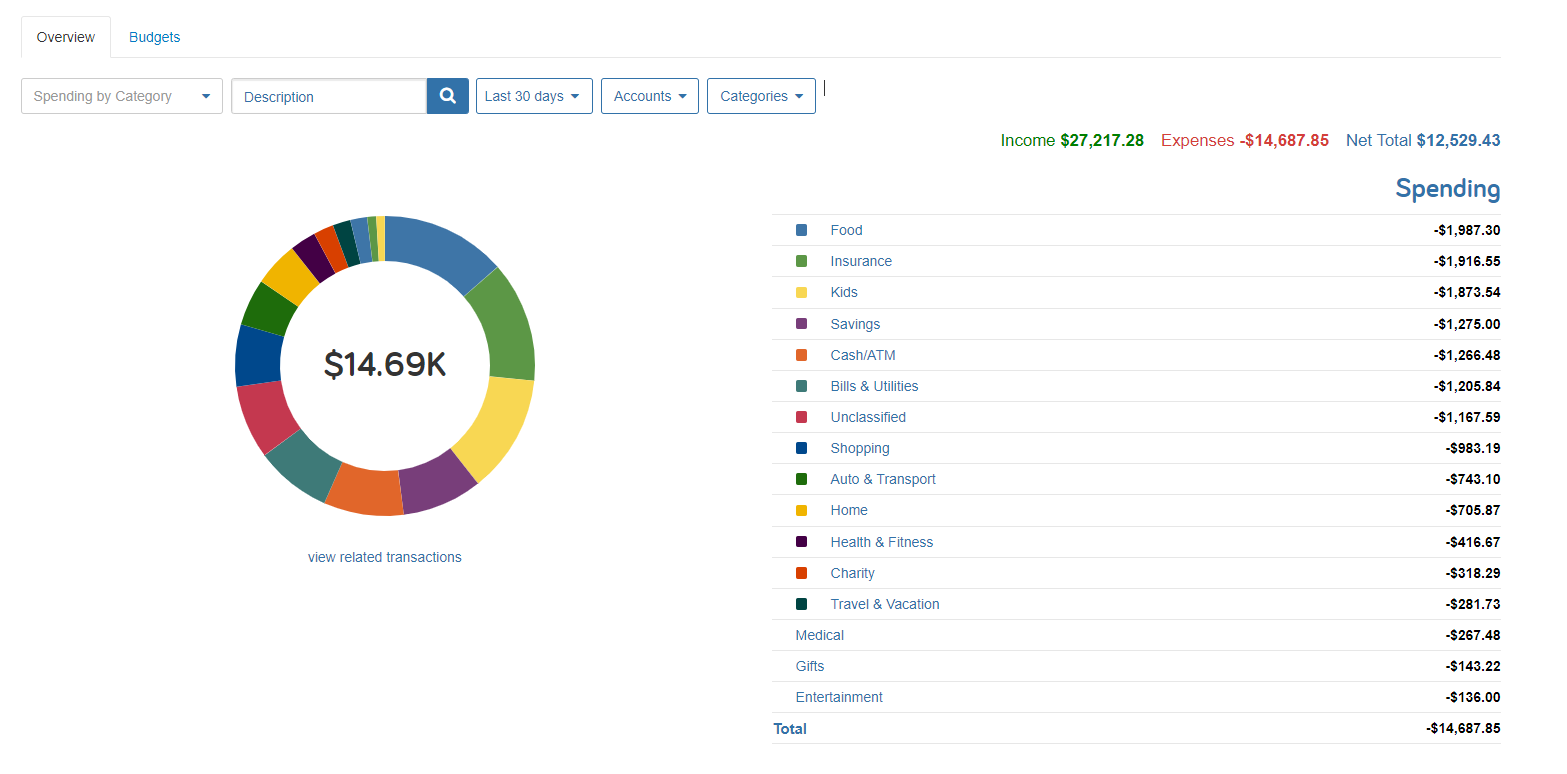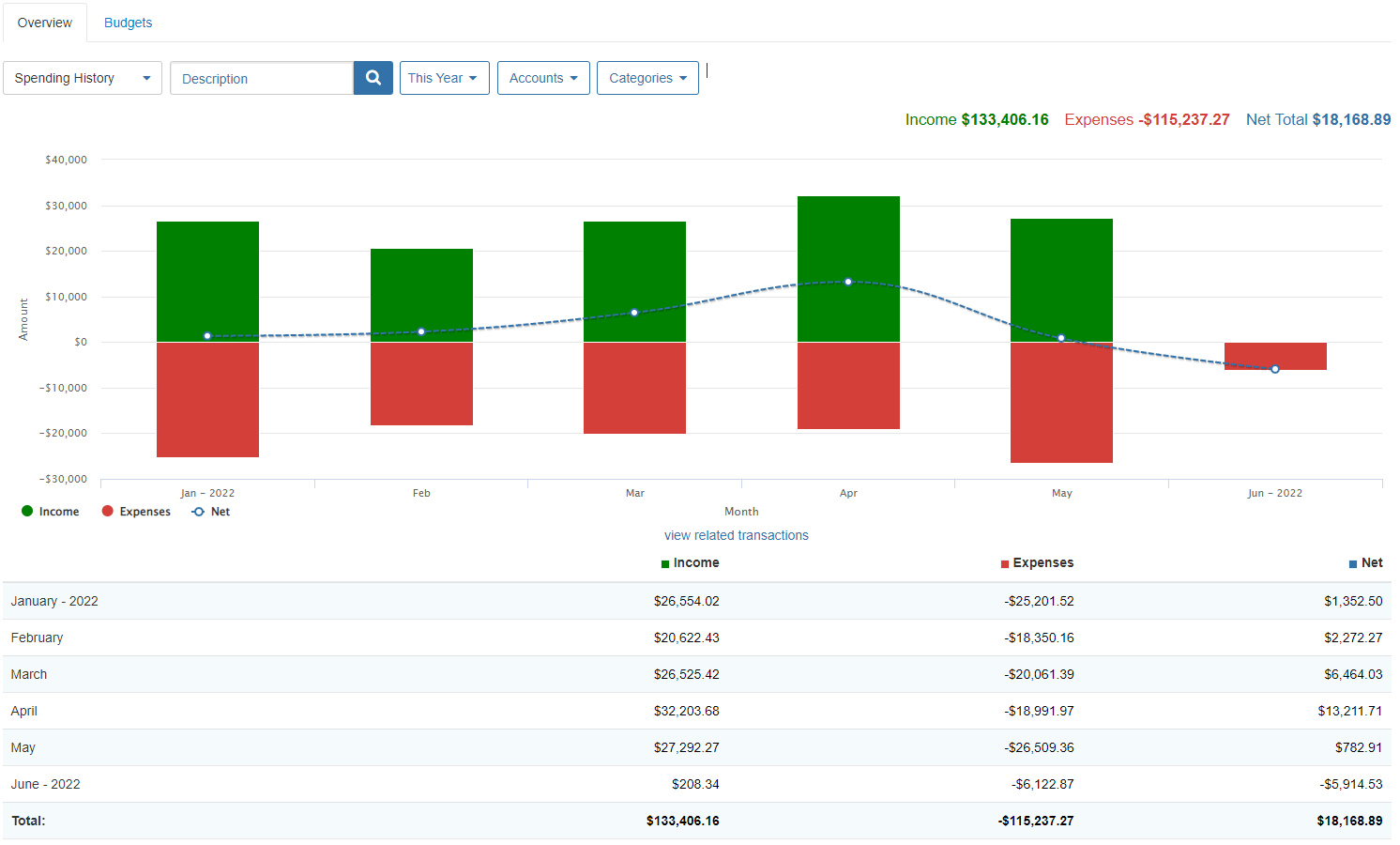 As you can see from the graphs above, these clients have a net cash flow of roughly $18,000 which can be redirected to savings.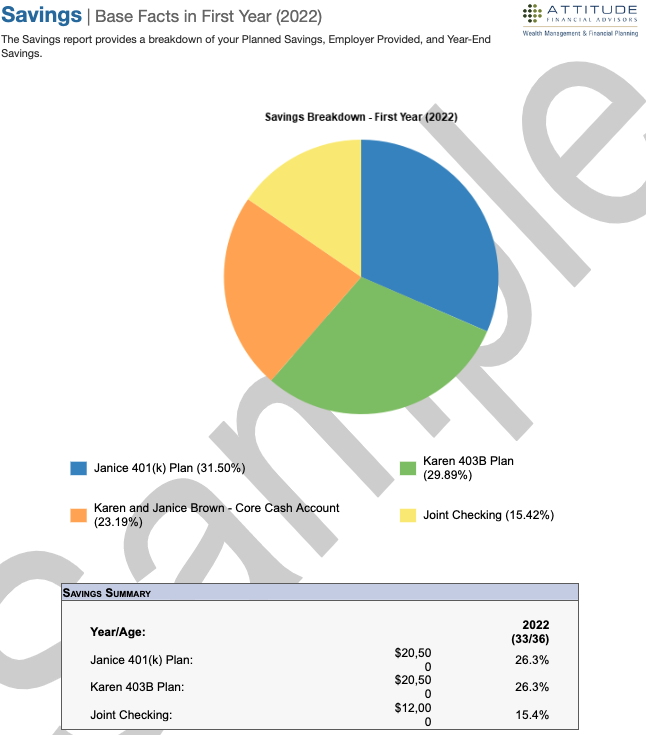 Goal Planning
Next, we'll take a detailed look at your goals and what it will take to achieve them. In this client's case, they are saving for a down payment on a house. They have $36,000 saved of the $125,000 that they need. The current shortfall is $89,000.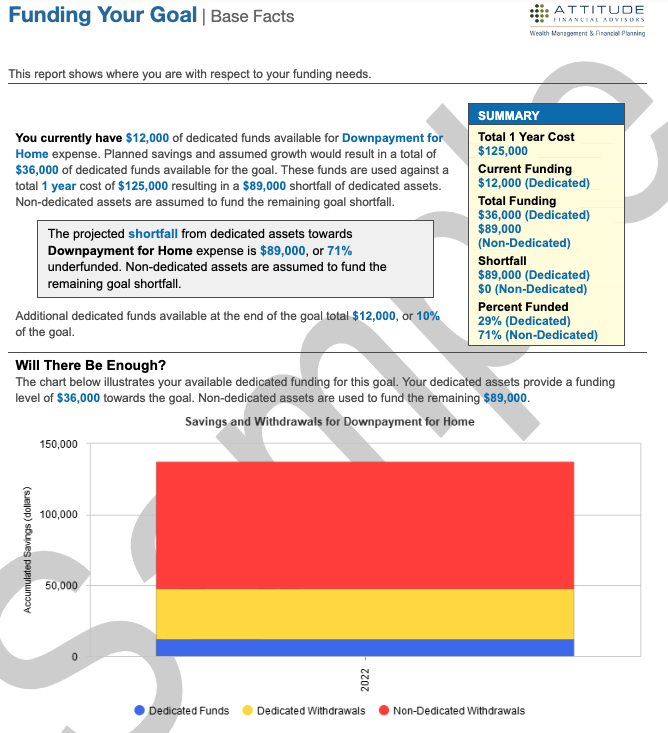 With Attitude's Money Mastery plan, we can identify ways to meet the shortfall and achieve long-term financial goals. In this case, the clients have three options to meet their goal-funding needs:
Increase savings by $2,472 per month.

Set aside a lump sum of $89,000.

Reduce the goal.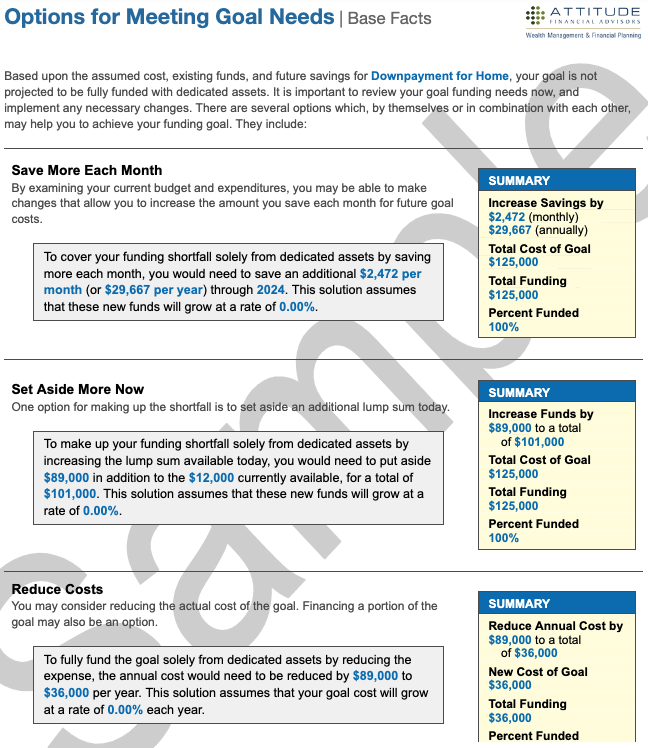 The Money Mastery plan provides a detailed snapshot of not just your current financial situation, but actionable steps you can take to achieve your long-term goals.
How Does Money Mastery Compare to Our Other Services?
The Money Mastery plan is the first level of our comprehensive financial planning services. It offers concrete steps toward financial confidence at a lower cost and smaller time commitment than our other two plans. 
It is less intrusive as clients are only sharing income and expenses, not assets, and it makes financial planning more accessible to clients who have simpler financial lives. It allows you to dip your toes into the water of financial planning, rather than diving in headfirst.
For those looking for more in-depth financial planning services, Attitude's Plan or Plan and Invest service may be better suited. For more information on how we can help you plan for the future, or to get started with the Money Mastery financial plan, reach out to me via email at btrugman@attitudefinancial.com or give me a call at (516) 762-7603. We can set up a consultation to assess your needs and determine which of our plans makes the most sense for you.
About Bryan
Bryan Trugman is managing partner, co-founder, and a CERTIFIED FINANCIAL PLANNER™ practitioner at Attitude Financial Advisors. With more than 13 years of experience, Bryan specializes in addressing the financial needs of new parents as they seek to realign their finances, assisting divorced individuals as they navigate an unforeseen fork in the road, and strategizing with those seeking to accrue a dependable retirement nest egg. Bryan is known for being a good listener and building strong relationships with his clients so he can help them develop a customized financial plan based on what's important to them. He is passionate about helping his clients experience financial confidence so they can worry less and play more. Bryan has a bachelor's degree in industrial and systems engineering with a minor in mathematics from State University of New York at Binghamton. He has served on the board of the Financial Planning Association and continues to be actively involved in the national organization. He is also a member of the Plainview-Old Bethpage Chamber of Commerce and has served as its vice president and as a board member. When he's not working, you can find Bryan on the ballroom dance floor or engaged in a fast-paced game of doubles on the tennis court. To learn more about Bryan, connect with him on LinkedIn. Or, watch his latest webinar on: How Much Is Enough? A Surprisingly Simple Way to Calculate Your Retirement Savings Needs.
Financial Advisors in Woodbury, NY